Allen vs Denton Guyer: A Texas High School Football Preview
The Allen Eagles (5-1, 2-0) face off against Denton Guyer (7-0, 3-0) Friday night at 7 PM in a battle of ranked teams in 6A. Guyer is allowing 16 points per game on defense. Allen is scoring 44 points on offense and averages 479 yards of total offense per game.
Something has to give.
Denton Guyer vs Allen
QB Mike Hawkins leads the Eagle offense, as he has passed for 1061 yards, seven touchdowns, and 2 INTs.
Allen RB Jaylen Jenkins has rushed 911 yards and 14 touchdowns in six games and averages a whopping 11.1 yards per rush.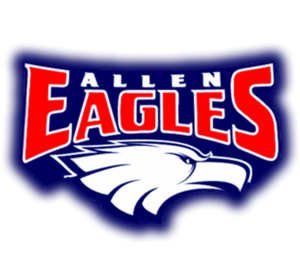 Hawkins's favorite target is WR Jordyn Tyson. He has caught 40 passes for 628 yards and 4 touchdowns.
Jenkins rushed for 104 yards and two touchdowns, and Allen gained 349 yards on the ground in last season's 56-38 win over Guyer.
On defense for the Eagles, DB Michael Momoh leads the team with 61 tackles and also has three tackles for loss and a fumble recovery.
The Wildcats of Denton Guyer rely on four-star quarterback Jackson Arnold, who has 1663 passing yards and 14 touchdowns, and three INTs. He is completing 64% of his passes.
According to 247sports, Arnold holds 14 scholarship offers, including 11 from Power 5 schools.
Guyer is looking for their first win against the Eagles. They are 0-5 dating back to 2014.
[adsanity align='alignnone' id=67800]